Don't miss the opportunity to upgrade into a new vehicle with Gervais Ford's Vehicle Upgrade Program!
At Gervais Ford, trading in your vehicle has never been smarter or easier.
No obligation
15-20 minutes
Preview new vehicle
Presented with offer to buy your vehicle
Presented with upgrade offer
Offer to pay today's service bill if you upgrade*
What is the Vehicle Upgrade Program?
Gervais Ford Upgrade Program allows you to replace your current vehicle with a newer one while keeping a similar monthly payment.
Due to record sales, our dealership has a growing need for clean, well-maintained, reliable previously owned vehicles. This allows us to offer you above average trade value for your vehicle.
Can I upgrade my car today?
Yes. 
At Gervais Ford, we are currently payin
g above market value for high demand vehicles. See how your current car is the key to getting you into the car you have been dreaming about. 
Your upgrade eligibility may occur well before paying off your vehicle.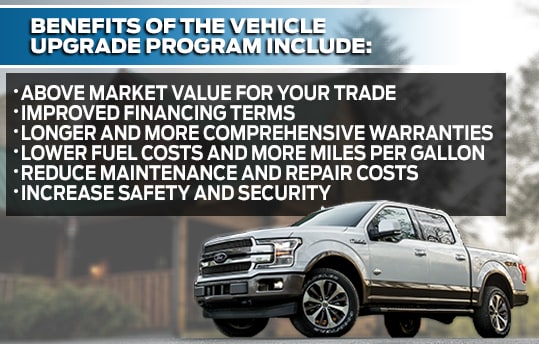 If you're interested in participating in this program, fill out the form with details about your current vehicle and someone from our Gervais Ford dealership will be in touch with you to discuss the program further. If you have questions about the Vehicle Upgrade Program that you would like answered right away call us at (888) 861-9565 or contact Ed Donovan online today! 
Gervais Ford in Ayer, near Boston, Massachusetts is offering our loyal customers a Ford Upgrade Program. These customers have the opportunity to take advantage of our Upgrade Your Vehicle Program, get a New Ford Truck or New Ford Car with a warranty, all while lowering or keeping their monthly payment the same, Ford is offering low finance rates and lease payments, and a new Ford may cost you much less than you might think. With an expansive New Ford Inventory, Including new cars, trucks, vans, and SUV's, you'll find the new Ford you want today. For the best selection please act immediately! Get a Quick Quote on a New Ford F-150, F-250, Eco Sport, Edge, Escape, Explorer, Fusion, Mustang, or any vehicle of your choice. Gervais Ford proudly serves Worcester, Lowell, Cambridge, Lynn, Newton, Lawrence, Somerville, Framingham, Haverhill, Waltham, Malden, Brookline, Medford, Revere, Peabody, Methuen, Arlington, Everett, Salem, Leominster, Fitchburg, Billerica, Marlborough, Woburn, Shrewsbury, Harvard, Boxborough, Littleton, Westford, Groton, Devens, Shirley, Pepperell, and many more. 
*Dealership will offer to pay up to $500 for service cost on qualified vehicles